You might be thinking that it's possible to drill square holes. But how? Many people believe that it's not possible to make a square hole as a drill uses round bits, so how to create a square hole? Not just squares. It is also possible to make drill rectangles and hexagons shape too. Let's read about how to cut square hole in metal sheet.
When cutting any metal, take precautions because sharp edges can cut the finger, and wear protective clothing and eyewear.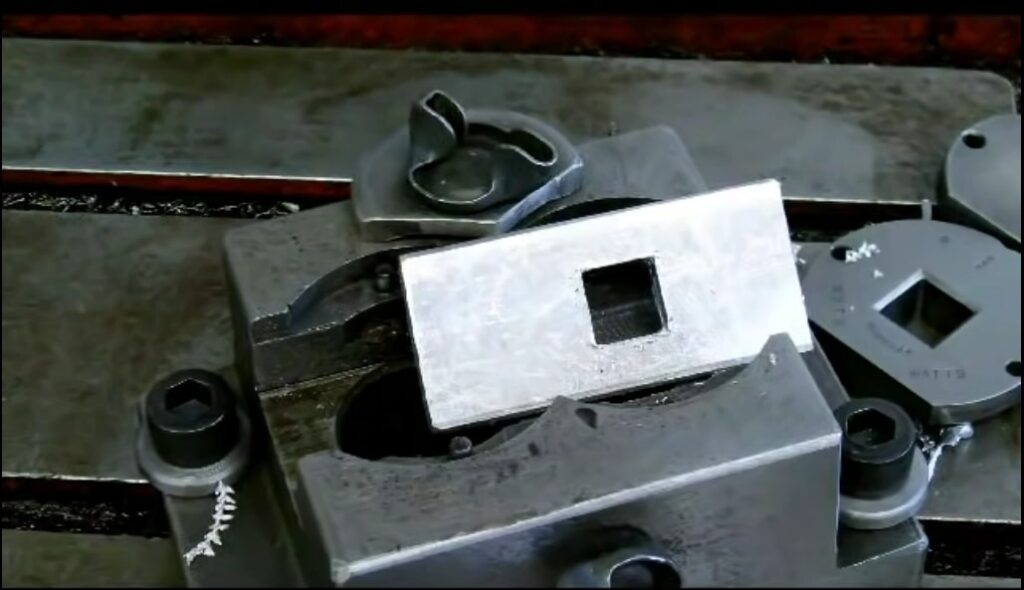 Here are different ways to create a square hole. Which one to use depends upon the size of the metal sheet and the available tools. Know how to drill a square hole in metal.
Square Punch for Metal
A square hole punch for metal is a method to create a hole using a metal rod with a sharp edge. A worker holds the square metal rod with sharp edges downside on the metal to make the square hole on the metal sheet. With a hammer, the worker hits the metal rod, and it will cut the sheet into the workpiece.
There is some heavy punching machine to create holes in a metal piece.
Dremel Rotary Tool
The Dremel tool is easy to use and control by hand to make an accurate cut to any metal sheet. It is a perfect tool for cutting square holes in metal, grooving, slicing, trimming, and cutting metal to any shape. The Dremel cut-off wheel uses to make a square hole, which requires a small hole, before cutting a metal sheet.
You can use this tool on other materials like wood, plastic, ceramics, and fiber sheet.
Square Hole Drill Bit For Metal
A Square Drill bits for metal is the best method out there. It starts with the drill bit to create a small starting point. Next, an auger-type drill bit spins inside the chisel with four sides. It bores a hole and ejects the chips. Meanwhile, the sharp edges of the chisel with four-sided pare the metal around the hole into a square hole.
Metal Milling
It is a process where a milling machine cuts the material in a rotary motion. A cutting head uses to make a finished hole, then create a square pattern.
Metal Nibbler
A metal nibbler is a metal sheet-cutting tool. The rotating tools cut a range of materials like Steel, Aluminium, Stainless Steel, Copper, Fibreglass, Plastic, and Cardboard.
Conclusion
Above are the methods you can use to create a square hole in metal. Choose the methods according to the tools and your expertise to cut the metal sheet. Always remember that wear safety equipment to stay protected from flying debris.
Read Next Blog:
Tips to Contact the Best Mineral Water Plant Manufacturer