It is needless to mention the astronomical growth of cryptocurrencies over the last decade or so. While these digital currencies have ventured into a wide range of applications enabling users to leverage them for a variety of purposes, crypto trading has been one of the top use cases.
Particularly over the last two years, crypto traders have gained fruitful benefits despite the fact that crypto has remained to be largely volatile. Having said that, it is also true that investors have acknowledged the potential in this space and they are now looking at the long-term prospects.
As we inch closer to the end of the first month in 2022, it is fair to say that the crypto market has not seen any massive boom, but has remained rather subdued.
You May Like: Basics of Cryptocurrency
However, investors, as mentioned earlier, are looking at the long term prospects and their overall sentiments have continued to be positive, thus leading to a considerably stable crypto ecosystem.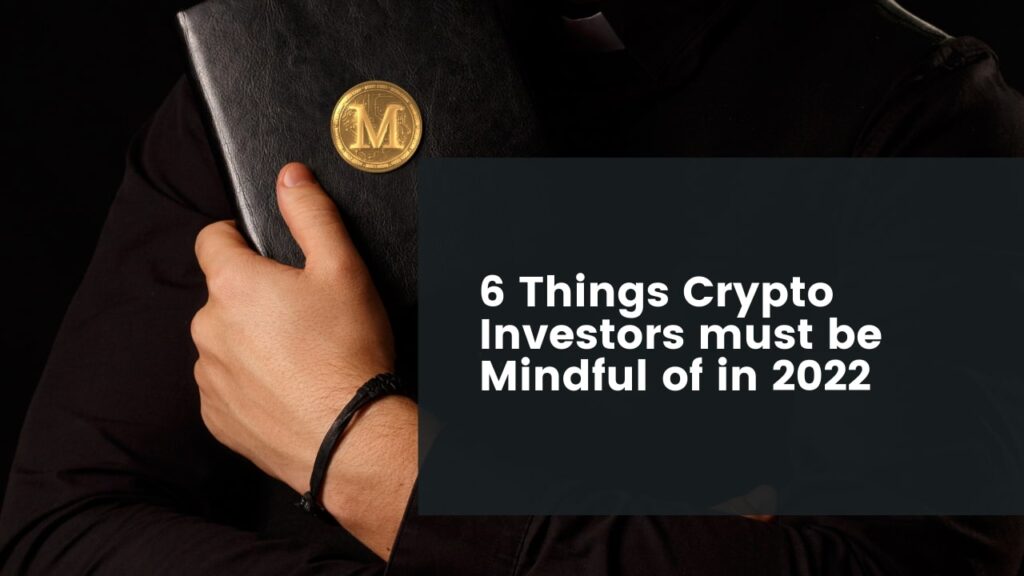 Despite all the above-mentioned contexts, the cryptocurrency market is largely unpredictable and hence, going further into 2022, it will be extremely crucial for investors to be highly diligent and focussed from a strategic point of view. Some of the hygiene factors related to crypto investments like adequate underlying research, regular trend monitoring, investing through secure exchanges, portfolio diversification, etc. will continue to be very important. Additionally, there will be some other factors that must be considered. In this blog post, we will look at the 6 things crypto investors must be mindful of in 2022.
1. Buying the Dip
One might argue that it has almost been a trend among crypto investors to buy the dip i.e buy cryptocurrencies when the prices are low. While it might have worked in the past, one cannot guarantee this to be a full-proof strategy going forward as it might not work in all cases, particularly in a scenario when the entire crypto industry is inclined towards consolidation. Instead, as investors, it would be important to buy based on value addition whenever a crypto asset promises to initiate a rally. The bottom line is – Value over Price.
2. Riding the Hype
There have been many instances when a particular cryptocurrency has been massively hyped up an influential personality, leading to a sudden boom. But, you might have noticed that these coins or tokens did not take much time to crash either. Such instances have been very prominent, particularly in the last year. For investors, it would be important to decide whether the asset is on an upswing based on its inherent value or is it riding on external hype. Again, focus on the value as that will be the single biggest factor deciding your ROI going forward.
3. Prepare for Volatility
In the current scenario, the crypto industry is facing a lot of pumps as the prices are going up, based on a sense of inflation. However, as the holders start cashing out, that might instil a lot of volatility in the market, albeit in the short term. Hence, as investors, it would be important to continue the long-term vision and be focused on the basics – monitoring the trend, not selling off due to instant dips, and trusting the value of the token.
4. Technical Analysis
As mentioned earlier, 2022 might be a volatile year for the crypto industry. But that is not entirely bad news for investors, as diligent investments will always have the goods to offer high returns in the long term. However, in a volatile scenario, technical analysis will be the key to ensuring that investors stay ahead of the market in terms of being prepared for highs and dips. To make it clear, technical analysis is the process of determining the value of an asset based on past price history, current real-time price movement, and trading volume. The analysis also involves using various technical indicators to predict the potential future price movements of the asset.
5. Fundamental Analysis
Apart from considering the technical aspects of crypto investments as mentioned earlier, it will be equally important to determine the value of the asset in consideration from a very fundamental perspective. This will involve the following: tokenomics, market cap, intrinsic strength of the organization issuing the coins, overall economic condition of the crypto industry, etc.
6. Understanding the Token Utility
Beyond the real-time price trends of a particular token, there is a lot more to be considered before investing, trading, and holding. We suggest, investors must consider whether the token has real-life use cases or not. If yes, there are high chances that it will have a long term value, which will eventually be reflected in the popularity charts. Hence, it will only be wise for crypto investors to bet their money on tokens that offer a lot of utility to the masses or even to a specific niche.
Ending Note
These are the 6 things that crypto investors must be mindful of in 2022. It would be important to consider that, while 2021 was a year of the crypto boom, 2022 will rather be a year that will test the resilience of investors, as the industry will demand patience and long-term vision from them. All in all, though volatility is predicted, this year promises to be the foundation of crypto dominance over the next decade or so.
As we keep a strong focus on how to invest in crypto in a very diligent manner, it would also be a good idea to have a look at the most promising cryptocurrencies which have the potential to deliver value both in terms of utility and financial returns. One such budding project is ModiCoin which aims to optimize how people handle their digital assets when it comes to saving and investing. Moreover, the ModiCoin platform is powered by advanced technologies like anti-dumping and anti-whale systems which have the potential to maintain and grow the value of this token over time, thus being a lucrative opportunity for investors. We believe, with more such tokens and offerings entering into the crypto space, crypto investors will have a wide range of options to study and invest in after due diligence.