When looking for a CMS for your eCommerce website, the number of options available can be overwhelming. PrestaShop may be one of the well-known names that emerged during this process.
PrestaShop is a no-cost, independently hosted eCommerce platform with great features and SEO skills. There are various PrestaShop SEO services India caters to provide expertise in performing the perfect blend of SEO effectively.
Let us look around everything regarding SEO for PrestaShop in this blog, including the 14 tips to improve your rankings effectively.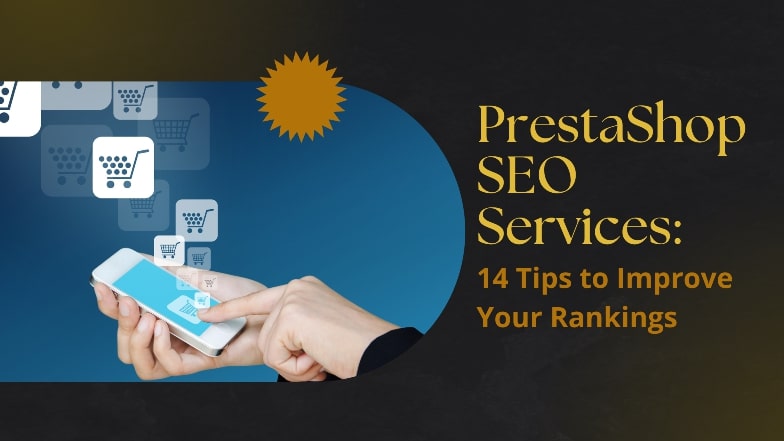 What Is PrestaShop?
PrestaShop is a free and open e-commerce platform. It is a well-liked Content Management System (CMS) for online stores. It is praised for being a user-friendly platform with a wealth of functionality that can be tailored to the user's needs. PrestaShop also fits the definition of "freemium," a business model in which a company provides users free access to essential functions while charging a fee for more sophisticated or supplementary ones. It is crucial to optimize PrestaShop if you want to get the most out of it and enjoy strong SEO results.
What Is PrestaShop SEO?
SEO involves a variety of strategies, including detailed keyword research, link building, and content marketing. These methods can be applied to raise the ranking of websites in search engine results. SEO increases and preserves your website's ranking positions, unlike other marketing strategies like pay-per-click (PPC) advertising, so you may continue to benefit from free visitors eternally. PPC offers quick results, but it has no long-term advantages. Therefore, many people believe that SEO is a superior marketing tactic.
14 Tips For Improving Rankings
Customers must be able to find your PrestaShop in order for it to be lucrative online. The success rate of the store depends on you putting numerous SEO methods into practice. Pay attention to the 14 tips to optimize your shop and drive more customers and sales.
1. Pick Just One Reference Domain
You must decide whether you prefer the www version or the one without it, even if you already use a single domain for your PrestaShop online store. The search engines view the 2 versions as 2 separate sites. If they discover identical material, they will flag the pages as duplicate content, resulting in your e-commerce being penalized. This issue can be solved by utilizing canonical URLs and redirecting to the desired version.
2. Create An Impressive Content
Provide a thorough, helpful, and entertaining description of your products. Optimize your product pages so that users and search engines will find them interesting: For each article, concentrate on 1-2 keywords while writing honestly and accurately.
3. Including Internal And External Links
Internal links are connections within a single page of your website to other pages. A website with strong internal linking is one that search engines will start to see as a reliable source for that search keyword.
For instance, search engines will recognize you have a good inventory and rank your page higher for that keyword. For example, if you sell a broad range of shirts and list additional shirt possibilities at the bottom of every page.
4. Optimization Of Metadata For Every Page
The most crucial e-commerce tags are titles and meta descriptions. Titles must appropriately represent the goods, and meta descriptions must include a summary of the page's additional material. The search engine results will consist of titles and meta descriptions.
There is no set limit for the number of characters in the title, but we advise staying within 50–60 characters and including a primary and secondary keyword related to the page's textual content. A maximum of 160 characters is recommended for the Meta Description; it must be a genuine representation of what consumers will find on the page and include keywords naturally rather than forcibly.
5. Friendly URLs
Your pages' URLs serve as the web addresses, and they should be clear to people (using URL rewriting) and search engines alike. PrestaShop has a built-in feature called URL rewriting that you can access through your admin panel's Configure > Store Parameters > Traffic & SEO (PrestaShop 1.7) and Preferences > SEO and URL sections (PrestaShop 1.6).
To make your e-commerce site more user-friendly and to boost its standing in search engine results, we advise adopting optimized URLs.
6. Using Themes Optimized For Mobiles devices
Google recently made mobile SEO one of the critical elements affecting where your site appears in search results.
Think about how many people are using mobile devices like smartphones and tablets. Check your e-commerce to ensure that it functions properly on all devices and that consumers can easily explore the pages, examine the products, add them to the basket, and place orders.
7. Utilize Social Handles
It is essential to share on social media. Share your content on sites like Facebook, Twitter, and Pinterest. Don't forget Digg, Reddit, and the rest.
After purchasing on your website, encourage your customers to review the transaction online over the social media handles.
8. Using Structural Data
Each page's code contains structured data that allows search engines to access more details about your products (pricing, discounts, reviews, etc.) and give them to users conducting online research. Make sure the PrestaShop theme for your online store utilizes structured data.
9. Speeding Up E-commerce
Search engines give you more points the faster your page loads. And there won't be a long wait for your users. Find the ideal balance between image quality and file size while optimizing your product's photographs.
10. Using Niche Keywords
Like you, many competitors online are dedicated to standing out from the sea of goods and an ocean of promotions. If you want to stand out from the competition, you can consider specializing in a specific niche so that customers looking for such products can locate you more quickly and simply.
11. Keeping Your Page Updated Is Necessary
Search engines favor sites that regularly update their pages. Although you don't have to post new content daily, you should periodically add new products to your product pages to keep them updated.
12. Work On Inbound Links
A website page is linked to another page of the same website by an internal link.
Internal links can assist users in finding what they're seeking, and search engine robots swiftly and efficiently locate a site's most relevant pages. The internal link language should be written with keywords in mind so that users and search engines can understand the connection.
13. Utilize Site Map
The site map is also a fantastic resource for visitors who can more easily search the contents and for search engines that can index your e-commerce site's pages more quickly.
An innovative strategy to raise your ranking in search engine results is to update your sitemap frequently with new goods and submit it to Google and other search engines.
14. Avoid Duplication Of Data
Duplicate content, or similar variations of the same content, is possible on your PrestaShop e-commerce site and can be accessed from many web addresses (URLs). To avoid duplicate content and penalties, there is an easy way. Search engines now treat pages that previously had "duplicate content" (multiple URLs with the same content) as a single page when canonical URLs are used.
At The End
A PrestaShop's SEO is the same as that of any other website. From the beginning to the very end, one must use caution. The first item on the essential SEO checklist is to structure your online store according to best practices. This is followed by optimizing the web pages for readability, simplicity, and a better grasp of search engines and end users. After you finish on-site SEO, you must continue your efforts with off-page outreach, a never-ending process. The higher it ranks, the more quality backlinks you accumulate.
Author's Bio
Vivek Sharma is a digital marketing specialist at a leading digital marketing service company in India, Better Graph. He regularly consults, trains, and speaks on SEO, PPC, and local search techniques. He can often review digital marketing strategies for clients with the SEO team and is actively involved in SEO.