Are you looking for strategies to improve the productivity and cooperation of your team? Outdoor activities that foster teamwork can be a useful strategy for reaching this objective. Through engaging in these activities, team members can bond and learn skills that they can use on the job, which will ultimately improve work output. Let's take a look at some of the top outdoor team-building activities.
Benefits of Outdoor Team Building Activities
Activities for outdoor team development provide a number of advantages that might enhance productivity. First of all, they foster a friendly and informal environment that enables team members to interact and develop trust. Second, these activities foster creativity and problem-solving abilities, both of which are crucial in the profession. Last but not least, outdoor team building exercises promote exercise, which can enhance general health and wellbeing.
Orienteering and Navigation
Activities involving navigation and orienteering are excellent for fostering teamwork and problem-solving abilities. Using a map and compass, participants collaborate to navigate a course. This task necessitates the use of planning, communication, and trust—all of which are crucial in the workplace.
As participants gain skills in reading and interpreting maps and other navigational aids, orienteering and navigation can also aid in enhancing spatial awareness and attention to detail. As team members must make quick and accurate decisions while traveling through unknown territory, these activities can be an effective tool to foster critical thinking and decision-making abilities.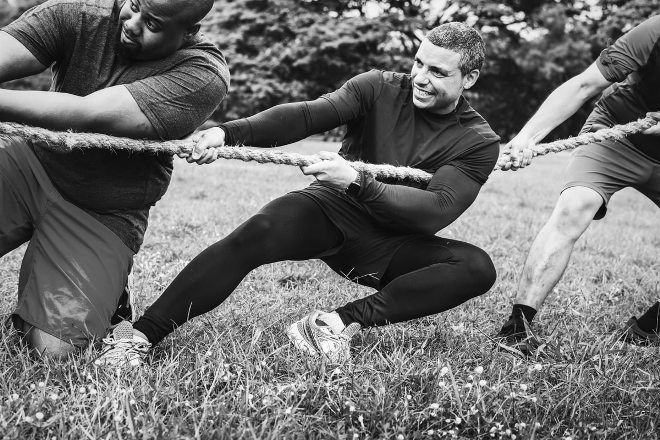 Camping and Survival Skills

Activities involving camping and survival skills allow teams to collaborate to solve issues and face obstacles. These activities call for leadership, trust, and communication abilities. Participants pick up outdoor cooking, tent-building, and fire-building skills. These abilities can be used for the job, where team members can make use of them to get over challenges and cooperate to accomplish objectives.

Activities like camping and learning survival skills can aid in building participants' resilience and flexibility by teaching them how to deal with rapidly changing weather and environmental conditions. As team members learn to rely on their own abilities and resourcefulness, these activities can be an effective approach to foster self-sufficiency and independence.
Bring Along Some Tools
When participating in outdoor team-building activities such as camping or orienteering, compact folding knives can be a useful tool to bring along. These knives are small, easy to carry, and useful for a number of things such as cutting rope or preparing food. They can also come in handy in emergency situations.
Headlamps or flashlights, first aid kits, and transportable water filtration systems are a few additional useful items. It is crucial to take the needs of the activity and the participants' skill level into account when choosing the items to bring.
Scavenger Hunts
Scavenger hunts are a well-known team-building activity that everyone may enjoy. Teamwork, communication, and problem-solving abilities are necessary for this exercise. To discover objects on a list and accomplish challenges, participants collaborate.
Given that players must be creative and work together to identify and finish challenges, scavenger hunts can also be a fantastic approach to promote these skills. As team members depend on one another to accomplish a common objective, these hunts can also assist to foster trust and togetherness.
Adventure Races
Building team spirit and physical health may be tough and entertaining through adventure racing. Teams must compete through a course that contains a range of obstacles, including kayaking, mountain biking, and trail running. They promote leadership, problem-solving, and communication abilities.
Due to the physical and mental challenges they present, adventure races can also aid in the development of mental toughness. Teams in these competitions must be flexible and quick to plot in order to overcome unforeseen obstacles, which can foster innovation and quick thinking.
Rock Climbing and Rappelling
Physically demanding activities like rock climbing and rappelling need teamwork and open communication. Along with improving physical fitness, these activities also foster decision-making and problem-solving abilities. Both indoor and outdoor environments are suitable for rock climbing and rappelling.
As individuals learn to push themselves over their comfort zones, these activities can also aid in boosting confidence and overcoming concerns. As team members support and cheer each other on during the climb or descent, they can be an effective approach to strengthen bonds among the group and promote mutual support.
Team-Building Workshops
Workshops for team development are a great approach to improving communication and teamwork. These professionally-led seminars feature activities that promote trust, communication, and problem-solving abilities.
Workshops for developing a team can also aid in identifying and resolving any problems with trust or communication that may exist. For newly created teams or teams that have seen considerable changes, they can be especially successful. These seminars can also give team members an invaluable chance to get to know one another personally, which can improve their professional relationships.
In Conclusion
Activities for outdoor team development provide a number of advantages that might enhance productivity. These exercises encourage cooperation, analytical thinking, and physical health. Teams can enhance communication, develop trust, and collaborate to accomplish shared objectives.