Grocery shopping no longer needs to be that dreaded weekly chore. Consumers have quickly become accustomed to perusing products, adding to their basket, and eventually checking out, all from the comfort of their mobile devices and all done in their own time.
There is no longer a tolerance for the agony of searching through seven aisles just to find that one bottle of sugar-free maple syrup. Consumers want to be able to click on a search bar, look up 'custard,' and have the product in all its varieties appear.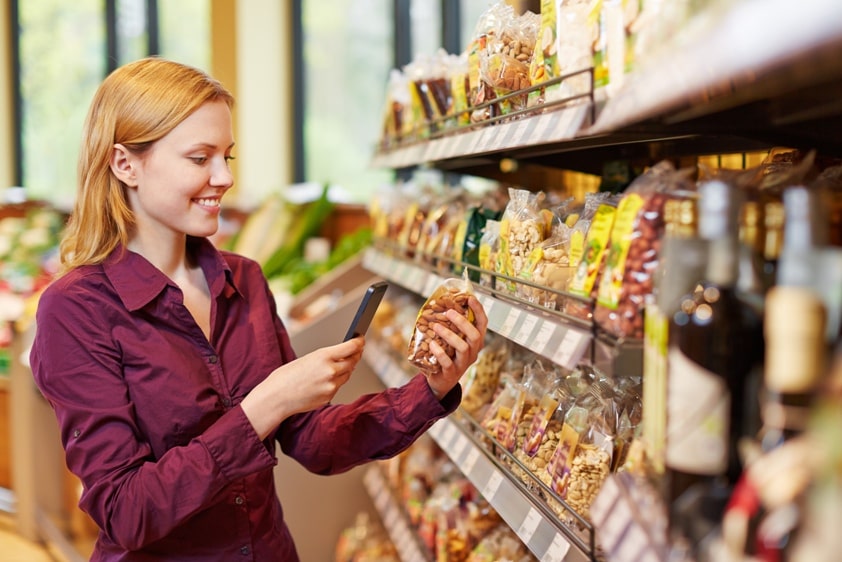 With the futuristic relevance of grocery mobile apps being practically within arm's reach of F&B businesses, you need to ensure that your software solution is innovative and up-to-date.
Grocers need a solution for making the ideal first step into these digitally inclined times, and here is what they are looking for and need from a grocery-shopping app:
5 Features Every Grocery App Needs
In a nutshell, grocery apps offer grocers the ability to increase their customer touchpoints and strengthen customer relationships. Therefore, businesses need to make their app the best it can be. To do this, their app must have:
1. Easy Registration
There is nothing more off-putting to shoppers than a lengthy and complex registration process. This process should be stress-free and user-friendly to retain more customers and ensure that more orders are going through (especially if registration is necessary during the checkout stage).
2. Recommended Products
Based on previous search and purchase history, a grocery app should be able to offer its users a personalized list of products the system thinks they would like.
The inclusion of this feature has proven to increase the average order value of a grocer's online store through its desirable convenience factors, reinforcement of impulse buying, and contribution to sales.
3. Straightforward & Secure Payment Gateway
The transaction process of a grocery app is crucial in sealing the deal and leaving a final good impression. Dealing with sensitive information, such as card details and home addresses, also requires the consideration of top-of-the-range data security and customer-centric refinement.
Grocers need to offer various payment methods, as there are multiple out there, and everyone has their preferences. A few of the payment methods worth including are Debit Card, PayPal, Visa, and Klarna. Not having these options dissuades consumers, so grocers need to ensure they offer the most for a seamless checkout process and finalization of sales.
4. Reward Programs & More
The majority of shoppers are on the lookout for ways to save money on their shopping. Implementing a loyalty/reward program is an ideal answer to this. This enhancement of user engagement encourages more purchases and supports long-term involvement with the business.
They can even be something as simple as app-specific seasonal or promotional coupon codes for those who have signed up for and are active program members. Overall, this is a continuation of practical strategies that promote user engagement and shopping urgency.
5. Delivery Apps & Other Order Options
Making their business available on third-party apps is equally crucial as it offers grocers multiple perks, like exposure to a more extensive consumer base. It also opens up the business to new forms of advertising and offers as shopping incentives.
A good example of this would be Uber Eats. A go-to app for shoppers and snackers alike, it offers a new customer touchpoint and its own delivery service. Though a joining fee would have to be paid by the business, it is an option worth considering and making available for them as its accessibility and sales perks can make all the difference.
Another option that should be offered is BOPIS (Buy Online, Pickup In-Store). Also known as "click and collect," shoppers can book their grocery pickup for whenever is convenient.
Delivering the Ideal Shopping App Experience
The demand is high for grocery apps that do more than just deliver. Ensuring your business offers an innovative app to customers can be as simple as considering the options and what custom magic can be worked by developers.
A custom approach to this app trend will help grocers stand out in the competitive F&B market. This can be best achieved with experienced input from those specialized in grocery shopping apps and other mobile app development features, such as third-party integrations, application plug-in features, and securing payment gateways. With thorough knowledge and understanding of what the F&B industry needs, specialized insight offers a lot to software proprietors striving to do more.
Grocery shopping was a quick trend to grace the e-commerce market, and it has quickly proven itself a trend everyone wants to keep. There is no end in sight to the demand and advantages of grocery shopping apps, which is also true of its potential for further development.
Author Bio
Dave Wood is an industry expert within the Food and Beverage supply chain and logistics technology landscape. He has worked at Chetu since 2013 and has since built a reputation as a thought-leader within the IT community. As the Director of Global Sales at Chetu, Dave plays a critical role in assisting companies with their supply chain, retail, marketing, and media related software projects. He offers commentary on changing tides within logistics and how inventory and warehouse management systems can propel all facets of retail and supply.