Cloud storage services are the counterpart to traditional hard drives, which are more efficient and flexible in many aspects, for instance, quick subscription to expand storage space, easy access from any device, etc. Due to huge demands for cloud drives, many cloud storage providers have launched multiple popular and advanced cloud drives on the market, such as OneDrive, SharePoint, Dropbox, Google Drive, and more.
Given that many users would save various kinds of files on their cloud drives, it will be such a mass if users don't manage them orderly. In this case, users will find it very difficult to find a specific file when they forget which cloud drives they have stored the data in. To organize data, moving them from one cloud to another is essential.
However, the common problem that most users will encounter when moving files between cloud services is whether they can migrate files across cloud drives efficiently. Formerly, many users always download the data they want to move to their local computer and then upload the downloaded data to another cloud.
This is helpful but not efficient. And you should make sure the storage space on your PC is sufficient and the internet connection keeps stable. Thankfully, with the development of technology, you can rely on a professional cloud transfer service to ease the process.
How to Make Cloud-to-Cloud Transfer Efficiently – Using MultCloud
MultCloud is one of the most advanced and popular cloud-to-cloud transfer services that help users to combine and manage different cloud storage services/accounts in one platform. It supports over 30 popular cloud services on the market, including Google Drive, Google Photos, OneDrive, Dropbox, Flickr, SharePoint, OneDrive for Business, Dropbox Business, Google Workspace, etc.
Once you add those cloud services to MultCloud and grant MultCloud access, you can manage them together. And when you intend to migrate files from one cloud to another, you can utilize the Cloud Transfer feature on MultCloud.
Why choose this service to transfer files between cloud services? There are some clear advantages:
Safe. MultCloud is a platform that helps you combine multiple cloud services and won't record any data on your cloud services.
Effortless Without downloading and uploading, MultCloud allows you to migrate data from one cloud to another directly.
Smart. MultCloud allows you to set up automatic transfer tasks so that files can be run at a specific time, daily, weekly, and monthly.
Efficient. MultCloud provides you with an industry-leading transfer speed, which means files can be moved as fast as possible.
Then, we will take how to migrate Dropbox to OneDrive with MultCloud as an example. Please keep reading.
Step 1: Register an account.
Step 2: Add Dropbox and OneDrive to MultCloud by hitting the Add Cloud button on the left navigation pane.
Step 3: Press the Cloud Transfer tab on the left, and then select Dropbox as the source cloud and OneDrive as the target cloud. Lastly, you can click the Transfer Now button to begin the task.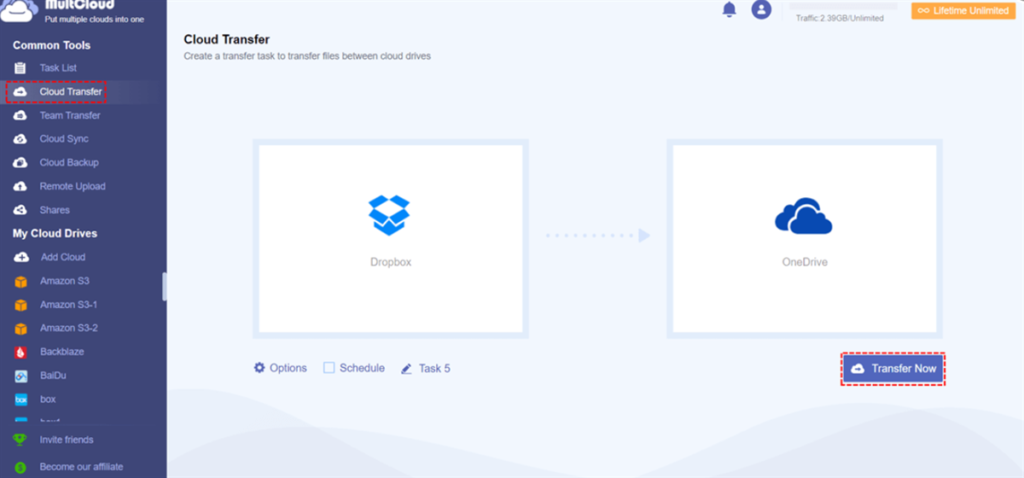 You can enable the Email Notification feature (Options) so that MultCloud will notify you when the task is ended. With MultCloud, you don't need to download and upload manually. Instead, it accelerates the process in a hassle-free way. On top of transferring files across cloud drives, you can also perform basic functions, such as uploading, sharing, renaming, downloading, etc.
As a professional cloud file manager, MultCloud also helps users back up and sync files from one cloud to another directly and easily. So, if you want to make one-way or two-way sync, you can use this service to sync data seamlessly. And when you have already backed up data between cloud drives via MultCloud, you can restore the backup data without a penny.
Final Words
After reading this post, you now know how to make cloud-to-cloud transfer easily. In a nutshell, using a third-party service, MultCloud, is helpful and efficient when migrating files across cloud drives. Meanwhile, this reliable tool makes it easier to sync and back up data between cloud services. So, it is actually a comprehensive platform that enables users to make cloud sync, transfer, and backup with ease.