Everyone loves to wear sweatshirts and hoodies. These both are unique in style and easy to wear, and pair with multiple clothing styles. You feel good, look good, and be comfy, which you can always have a hands-on. You can wear it all year round, but it is associated with winter. But how to wear a sweatshirt in summer?
Find out whether it is against the fashion rules or sweatshirt is for summer or winter.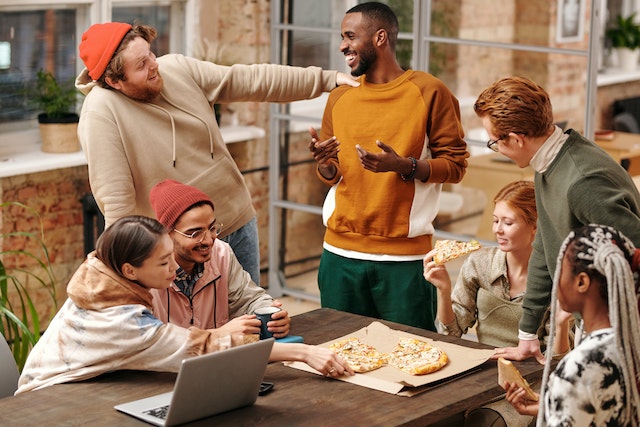 Here are a few points you should consider while wearing sweatshirt in summer season.
1. Choose a light material sweatshirt.
A sweatshirt made from wool makes you uncomfortable during summer due to the temperature rise. Instead, choose a cotton or polyester blend sweatshirt, which makes you comfortable and stays cool even when the temperature rises.
2. Pair with Summer Wear.
Pair a sweatshirt with shorts. It makes you look cool and also keeps you cool. It balances the look and temperature both.
3. Accessories
Wear a sweatshirt with sunglasses and a cap, which help you keep the sun away from your eyes and face.
What is a Sweatshirt?
A sweatshirt is a pullover and collar-less garment made of heavy cotton or cotton blend material, which makes you stay warm in cooler temperatures. Some may get confused between sweatshirts and hoodies.
A hoodie is a type of sweatshirt with an attached hood and may have a Kangaroo pocket, while a sweatshirt is collarless.
The material inside the sweatshirt is a fleece. It brushed to make it softer. It is similar to wool which makes you feel warm and soft. Sweatshirts are not body fitted or tight. Even though it comes under types of sweaters, it is always loose or oversized. You can wear a sweatshirt at the gym or in the summer season because the material inside absorbs moisture.
Can we Wear a Sweatshirt in Summer?
Yes, you can wear a sweatshirt in summer. It is easy to wear and pair with summer outfits, and its thick cotton material makes you feel comfortable by absorbing moisture.
Though many people think it is winter wear, you can wear them in the summer season too. You have to choose the correct fabric and know when to wear it. If you live in a hot city, then avoid wearing it.
How to Wear a Sweatshirt in Summer?
It depends upon you. Whether you want to wear a sweatshirt in summer or not. Sweatshirts absorb sweat and make you comfortable on the go. A sweatshirt used to be gym wear, but now it is a part of casual wear and streetwear for men and women.
Are you thinking about how to wear a sweatshirt for everyday lifestyle in summer, then look no further read the article. There are several ways to wear it and become a style icon. Both men and women or girls and boys can pair it with jeans and sneakers. With the right pair of shorts or skirt, wear a sweatshirt and make a fashion statement. The more comfortable you feel after wearing a sweatshirt in summer, the more you get an idea while pairing with other clothing styles but check for the blunder while pairing.
Boy can pair with t-shirt and shirt both. It will make your dull outfit live again. Check for the accessories which go well with your outfits of the day. A nice pair of sneakers for both men and women will make you the center of attraction. You can check online for sweatshirts and Outfits ideas.
Ways to Style a Sweatshirt in Summer:
1. Sweatshirt Dress Outfit Ideas
If you have an oversized sweatshirt, wear it directly and pair it with sneakers.
Shop Now: https://amzn.to/3sUx8Rq
2. Sweatshirts, Jeans, and Sneakers.
Your skinny-fit jeans with matching or white sneakers make a perfect look.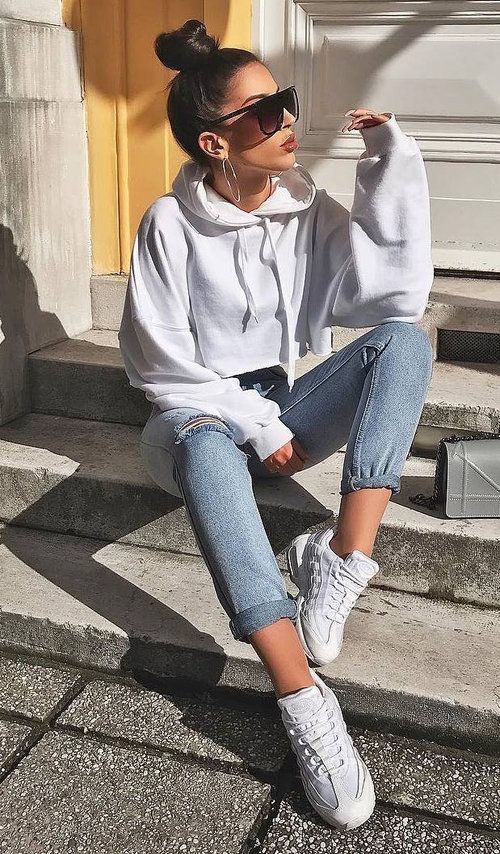 Shop Now: https://amzn.to/46A6KtR
3. Biker Shorts with Sneakers
Biker shorts are in trend, which will use with your oversized sweatshirt.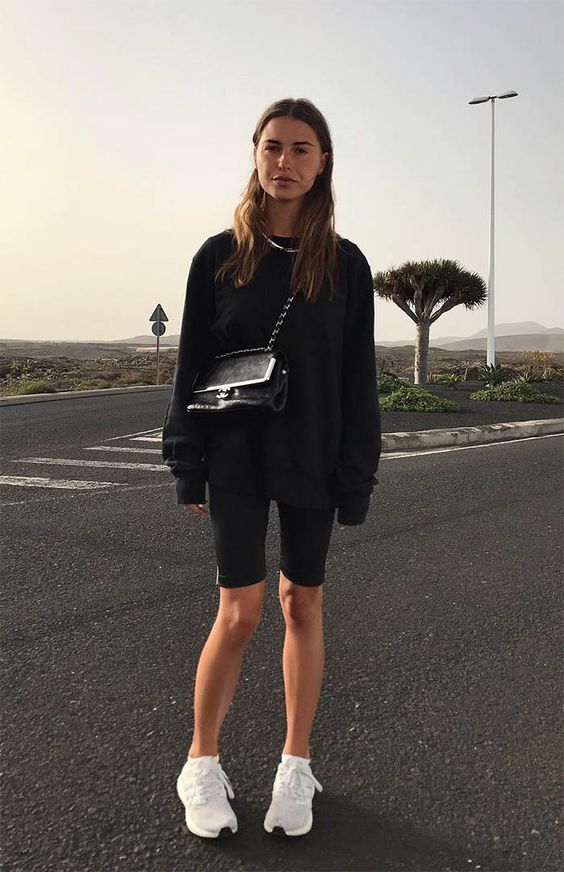 Shop Now: https://amzn.to/46NVJoZ
4. Joggers
A comfy jogger with white sneakers goes well with your sweatshirt.
Shop Now: https://amzn.to/3RhNCLF
5. Cropped
Shop Now: https://amzn.to/3QVp0rD
What is the Difference Between a Sweater and a Sweatshirt?
The main difference between a sweater and a sweatshirt is how they are knit or made. A sweater is a knit, crocheted, or woven jacket, while a sweatshirt is not. The sweater covers the upper body warm in winter. A sweatshirt made to absorb sweat as well as warmth.
Sweater
The knitting method used to make sweaters is by linking stitches. It has complex patterns and designs. It is light and heavy, which helps you to keep warm and protect against cold waves. The sweater has multiple names in different countries. Like jumpers, sweaters, jerseys, tank tops, pullovers, and slipovers.
Sweatshirt
A sweatshirt is a pullover with no collar and a long sleeve. It has a fleece backing to make it softer, comfier, and absorb sweat. It mostly has two layers. Many athletes use sweatshirts during training to avoid damp cloth because they absorb sweat.
Both are easy to wear and style!
How to Choose the Sweatshirt Fabric for Summer?
The most important thing, which you should keep in mind while buying a sweatshirt for summer, is fabric!
One of the best materials for summer is cotton, so choose a cotton sweatshirt, which is light and breathable.
You should avoid thick materials and sweatshirts made from polyester and wool. Because the air will not pass through the polyester, and the woolen makes you feel warm when the temperature rises.
When you buy a sweatshirt, look for the color. It plays an important role. During summer, some colors reflect while some absorb the Sun heat, like black and red, which you should avoid. Choose a light color like white, blue, light blue, or pastel colors.
Picking cool colors will help your mind to think about the cool vibes around you, while on the other hand, colors like black and red give vibes of hot and warm, even if you wear the lightest fabric sweatshirt.
FAQs
How do people wear sweatshirt in summer?
You can pair your sweatshirt with denim jeans, shorts, and ripped jeans.
In which season we can wear sweatshirt?
You can wear sweatshirts in winter and summer both. During winter, it provides warmth, comfort, and fashionable, while in Summer, the material of the sweatshirt has a lining inside which absorbs moisture.
How do you wear a sweatshirt when it's hot?
When it's hot during the summer season, wear a vest or tank top to stay calm, and enjoy wearing a sweatshirt in summer.
Can we wear sweatshirt as casual?
Yes, you can wear a sweatshirt as casual wear during your outing to a dinner, party, shopping, and much more. It is part of casual streetwear, and you can wear it in many ways.
Which season is best for sweatshirt?
The best season to wear a sweatshirt is the Winter season.
Read Next Blog:
How To Wear a Cropped Sweatshirt