Polygon NFT Marketplace Development
The idea of building an NFT marketplace in Polygon is an inspired choice. Success in this venture leads to an additional revenue flow for the company. Developing an NFT marketplace in Polygon requires you to focus attention on creating the blockchain. Typically, entrepreneurs start these online marketplaces using conventional blockchain standards. The downside to this approach is that some standards can get outdated.
Hence, it is a wiser choice to start an NFT marketplace on the Polygon blockchain. This article will detail the process required for developing such a platform.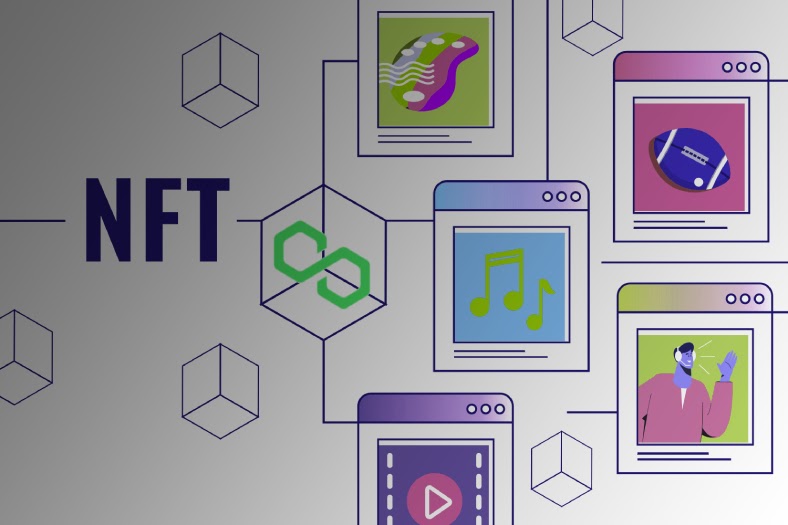 What is the Polygon Blockchain?
Originally, Polygon was called Matic. The platform is a layer-two scaling solution meant for the Ethereum blockchain. Matic's purpose was to connect and build Ethereum-compatible blockchain networks. Matic was meant to create an ecosystem where users could take advantage of the several benefits the Ethereum platform provided. Later, the blockchain changed its name to Polygon.
You May Like: Digital Marketing Experts Should Prepare for NFTs
Polygon provides several advantages to users, including security, interoperability, scalability, and modularity. A recent update to the network provided scalability to any blockchain trying to connect to Ethereum. The most significant benefit Polygon offers its users is security. Polygon has incredible security protocols thanks to the base Ethereum network.
Ethereum is famous for providing robust security measures thanks to node distribution and smart contract layer. Another benefit to NFT development on Polygon is the low gas fees. The reduced gas rates are an enticing aspect to any NFT marketplace developer or entrepreneur.
NFT Marketplace Development on Polygon
Any NFT marketplace is where users engage in buying, selling, and trading digital assets. This platform is where users can purchase NFTs at a set price or buy them through online auctions. Developing an NFT marketplace in Polygon provides multi-chain compatibility to users and greater accessibility to users.
What is a Polygon NFT Marketplace?
The growing trend of NFTs led to the sudden rise in NFT marketplace development. The Polygon network helps users launch their NFT marketplace and helps a business stand out from the crowd. The platform provides a seamless user experience along with security and reliability. Also, the company can customize the product based on its specific needs and requirements.
You May Like: How to Create NFT Art with No Coding Experience
Benefits to NFT Marketplace Development on Polygon
The business has the opportunity to provide the best user experience imaginable. Many users state that the Polygon blockchain has the best user interface available. It ensures that a business can offer an outstanding and clean UI for the user.
An NFT marketplace in Polygon has layer two solutions. These solutions dramatically increase the daily transaction speed.
The marketplace comes equipped with robust security protocols and ensures a high encryption level for every transaction.
Any blockchain is decentralized by nature. Hence, any NFT marketplace built on a blockchain operates in a decentralized manner. This nature provides complete transparency to the users and builds trust.
Another benefit to Layer 2 solutions is the unprecedented scalability it provides to NFT marketplaces.
Now, let's take a look at the essential features required for NFT marketplace development on Polygon.
You May Like: 6 Different Kinds of NFT Scams
Essential Features for your NFT Marketplace
The feature makes it possible for the NFT marketplace to connect with other Ethereum-compatible blockchains. The feature also reduces the limits and takes full advantage of Ethereum's ecosystem.
Ensure that the network for the NFT marketplace can perform multiple transactions at once.
Ensure that the NFT marketplace operates with the highest security levels possible. Better security means safer transactions and builds trust among the users.
An NFT marketplace built-in Polygon can integrate with the Ethereum blockchain. This process enables sovereign blockchains the facility to develop multi-chain systems. These systems typically see thousands of transactions occurring in a short time.
The Polygon network can interact with other blockchain networks.
The Polygon network is famous in the blockchain world for its customizability, extensiveness and upgradability.
You May Like: Complete, Most Powerful, and Proven Plan for NFT Advertising
Smart Contract Development on Polygon
A smart contract is one of the primary and essential programs on the blockchain network. These programs automate the platform and enable trading without dealing with intermediaries or time delays. NFT marketplaces operate using several smart contracts to set terms between buyers and sellers. When the buyer agrees to the seller's terms, the smart contract activates and initiates the transaction.
Minting NFTs on Polygon
NFT minting is the process where users convert digital assets into an NFT and list them on the marketplace. Users achieve this process through smart contracts. This program governs NFT operations and provides ownership. The process ensures any user mints their NFT and earns revenue in a short time.
Why Start NFT Marketplace Development on Polygon?
One of the objectives is to reduce transaction costs, provide several tools and increase transaction speeds on the Blockchain. This approach is what makes the network a viable part of Apps. Another advantage to the Polygon network is that people can stake their assets and earn rewards. This feature is in addition to the stellar user experience the platform provides.
Why Develop an NFT Marketplace App?
Mobile apps are now an important way for anyone to access information. Apps also act as the best communication channel between users. An NFT marketplace app enables users to mint NFTs and sell them in a few steps instantly. Also, these apps increase visibility in the crypto space. Here, crypto enthusiasts look for NFT marketplaces with mobile responsiveness. The apps can increase user engagement, nurture a loyal user base and help the marketplace stand out in the industry.
Conclusion
Presently, the Polygon Blockchain is one of the most popular platforms for NFT marketplace development. The network has several benefits and functionalities that make it suitable for an online marketplace. Businesses and users can benefit and earn steady revenue by developing a marketplace on this network. Hence, there is a growing demand for NFT marketplace development on Polygon.
If you are looking for the right blockchain network, then consider Polygon for NFT marketplace development. The platform provides several benefits to the user and helps the business reach great heights in the digital sphere.
Read Next Blog:
7 Best Courses to Learn and Understand NFT
Correlation Between Metaverse, NFTs, and Blockchain